Central Tech finishes 12th and 35th in The CyberPatriot National Youth Cyber Education Program semifinals. The 12th place team, known as 3-Dmes, advances to the national competition in Washington D.C. on March 19-23, 2020, where they will compete for the title of National Champion, for scholarships, and for other national recognition. To qualify for nationals' teams must place in the top twelve in the nation.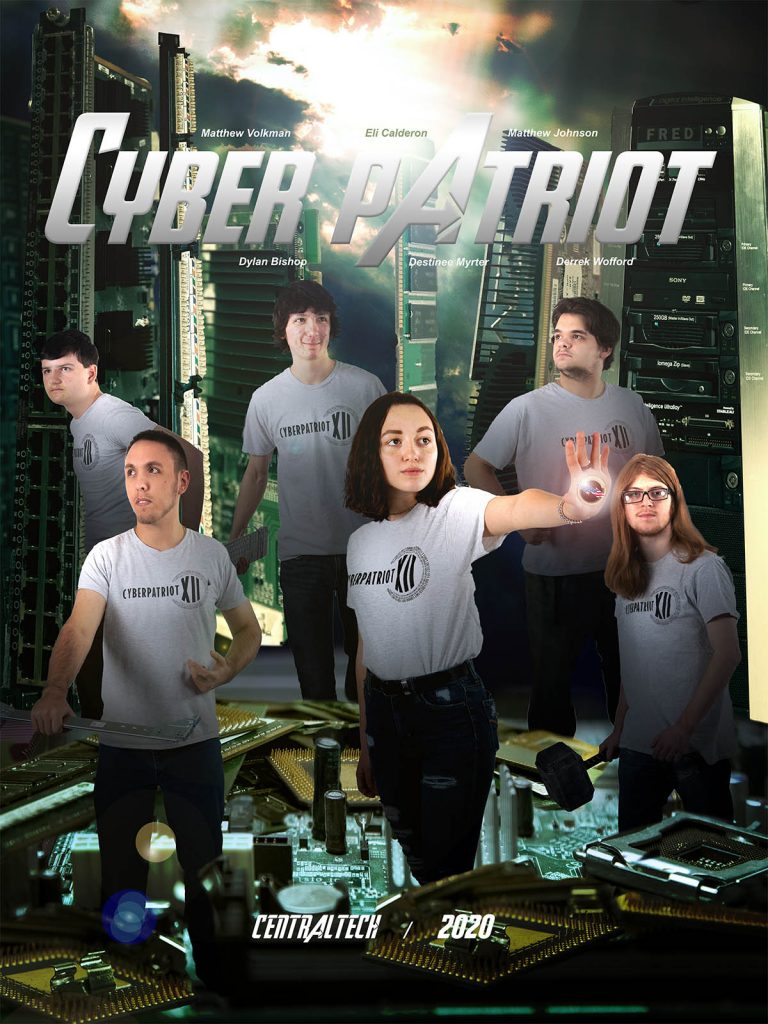 This year's team includes front row (L-R): Dylan Bishop of Cleveland, Destinee Myrter of Mannford, Derrek Wofford of Mannford. Back row: Matthew Volkman of Hominy, Eli Calderon of Cushing, and Matthew Johnson of Hominy.
"The CyberPatriot contest is a great opportunity for our students to demonstrate the cyber security knowledge they have learned, and to compare themselves with their peers from around the world," said Dustin Ford, Central Tech Network Security & Administration instructor.
More than 6,760 teams representing all fifty states, the District of Columbia, and eight other countries competed in a series of online rounds hoping to secure a top spot and a chance for an all-expense-paid trip to the CyberPatriot XII National Finals Competition. Out of 108 Oklahoma teams, Central Tech was the only school from Oklahoma to qualify for nationals.
This is Central Tech's fourth time to participate in the national competition.
CyberPatriot, established by the Air Force Association, is a purely defensive competition where students learn to secure computers, servers, and networks from cyber-attacks. The students compete globally with other competitors in the same age range. The competition provides a fun means to learn about and practice skills used in industry to protect their digital assets.
"TheNorthrop Grumman Foundation is the presenting sponsor. AT&T, Boeing, Cisco, Microsoft, and the U.S. Department of Homeland Security are also heavily involved in the program. These companies not only financially support the contest but offer job and internship opportunities to the contestants," Ford said.
CyberPatriot is the premier national high school cyber defense competition created by the Air Force Association to inspire high school students toward careers in cybersecurity or other science, technology, engineering, and mathematics (STEM) disciplines critical to our nation's future.
Central Tech congratulates the network security CyberPatriot team on their accomplishments. For more information on the class visit Network Security & Administration.