40+ Years of Excellence
In 1969, the Central Tech Board and Administration set out to develop a quality truck driver training program.
Affordable Prices
Legislation funded the expansion and upgrading of the Truck Driver Training Program
Our Philosophy
There is no such thing as an overqualified truck driver.
Reputation
News spreads fast. Industry recruiters snap up Central Tech graduates as fast as they can be trained.
Why Choose Central Tech Truck Driver Training?
SEND US A MESSAGE
If you would like more information or have any questions you would like to ask, please fill out the form below and we will contact you soon.
Central Tech Truck Driver Training will be conducting an 8 week program (M-F evenings and Saturdays daytime) at OSU-OKC in Oklahoma City.
For more information, contact 405-945-3227 or osuokc.edu/CSEP.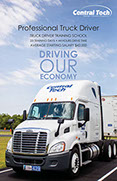 Professional Truck Driver
Truck Driver Training School
23 Training Days
44 Hours Drive Time
Average Starting Salary

 

$42,000
Download the brochure for more information.