MAINTAIN – REPAIR – INSTALL
Industrial Automation, commonly called automation technicians or industrial maintenance technicians, play a vital role in todays workforce. As more machines become automated it takes a well-rounded individual in key areas to maintain these machines.
As an industrial automation student, you will learn:
Basic Electrical Theory/Wiring
Mechanical Drives Systems (belts, pulleys, gears, bearings, chains, etc.)
Hydraulic Systems
Pneumatic Systems
Motor Control Systems
Manufacturing
Machining, Welding
Programmable Logic Controller
Variable Frequency Drives
Safety in Industry
Tools
Adapting to the Workforce
Having this diverse skillset enables you to adapt to the needs of the company by being able to install, operate, test, repair and maintain industrial equipment.
This equipment can be found anywhere from a manufacturing facility to oil and gas related fields.
While you're learning the unique skillsets this class offers, you have the potential to earn industry recognized certificates in the following areas.
Electric Motor Control Systems
Electrical Systems Installations
Electrical Systems 1
Mechanical Power Systems 1
Pneumatic Systems 1
"NC3" Snap-On Meter 596F
Most of our certifications are through Smart Automation Certification Alliance "SACA". SACA is nationally recognized by several cooperation's including Rockwell Automation, Schlumberger, Ashley Furniture, Hershey, Kohler, Boeing, and Fanuc
Our Snap-On Meter certification showcases your ability to prove that you can use a digital multimeter safely and effectively. NC3 is the National Coalition of Certification Centers and is a value driven organization. Industry recognized Precision Measuring (PMI) certifications are also available to obtain.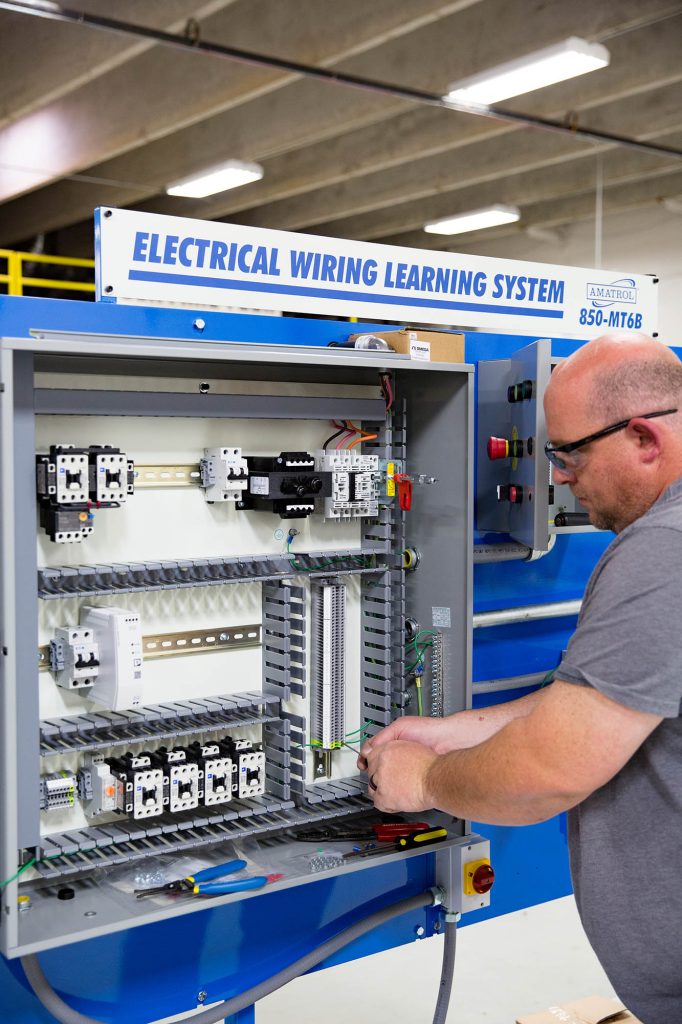 CAN I FINISH THE PROGRAM EARLY?
Yes, this program is designed to be self-directed, adults with the aptitude for and work ethic can complete the curriculum early and start on-the-job training (OJT).
Is this a good job for me?
Ask yourself these questions:
Do you like a challenge?
Do you like to troubleshoot?
Are you interested in gaining a diverse skillset?
Do you like to work with your hands?
Are you interested in a potentially high-paying career?
If you said yes to at least two of the questions, then this is the class for you.
Leaving this program with a diverse skillset, puts you a step ahead in job placement. You can complete this program and start your career in industry!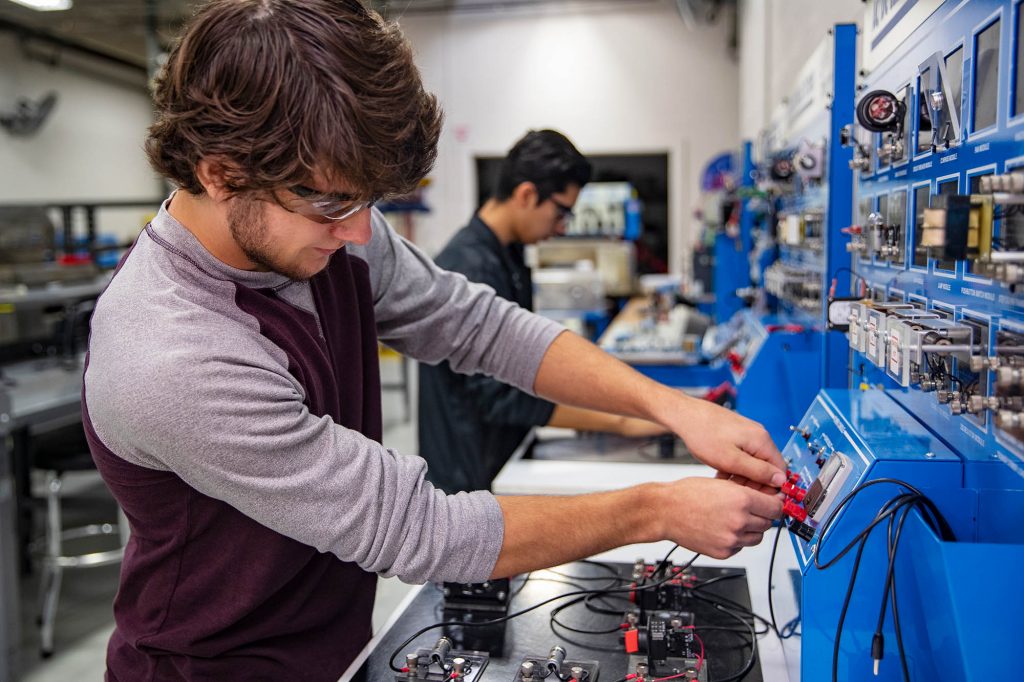 AUTOMATION TECHNICIAN
PATHWAY
Details
This program is designed for those seeking careers in maintenance in a manufacturing environment. This is the basics of the maintenance manufacturing curriculum. The course covers:
Safety
Manufacturing Fundamentals
Tools
Basic Electricity
Basic Electronics
Motor Controls
PLC Programming
Process Control
Adapting to the Workforce Skills
Areas of Study
Safety in Manufacturing
Introduction to Manufacturing
Basic Electrical Theory
Basic Electrical Machines
Electric Motor Control
Electro-Fluid Power
Industrial Electrical Wiring
Variable Frequency Drives-AC Drive Systems
Computer Control
Potential Career Path
Source: Zippia.com
"We hired five students from the previous class. We can't wait to see our options this year!"
RELATED NEWS & INFO
MORE INFORMATION
Our Graduates
Where do they find jobs?
Read More
Our graduates work in many industries including aeronautical, energy (oil & gas), and companies such as Amazon, Webco, Plains, and Michelin. They also work in other industrial environments, including computer and communications equipment manufacturing.
---