CHOICES Tuition Waiver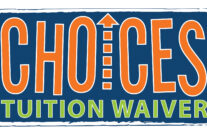 Students who have graduated from a public, private, home, or charter high school in the Central Tech district may be eligible for the CHOICES Tuition Waiver. Central Tech may waive an amount up to, but not to exceed the cost of, 1600 hours of tuition calculated at the current full-time rate. This waiver may apply to full-time, ACD or TDT tuition for eligible students. To be eligible students must:
Currently, reside in the Central Tech district.
Be a graduate of a public, private, charter, or home school within the Central Tech District.
Begin class within 48 months of High School graduation.
Be enrolled in a program greater than 40 hours in length or an ACD Career Track program whose total length is greater than 40 hours.
Demonstrate satisfactory academic progress in the chosen program.
Provide a copy of their high school transcript.

This waiver does not apply to supplies, fees, tools, or certification examination fees. Restrictions apply. Call for details.
---
Central Tech Foundation Scholarships
These funds are established to administer assistance to Central Tech students in financial need. They can be used to provide assistance to students through a variety of means, while they pursue a new career:
Required Program supplies
Tuition assistance
Fuel Assistance for the clinical phase of training
Professional Clothing
And Financial assistance for a variety of family emergencies, etc.
---
Chickasaw Nation Career Technology Program
The Chickasaw Nation Career Technology Program (CTP) is available to part-time and full-time Chickasaw students attending a state or nationally accredited career technology center, trade school or privately licensed training facility, whereby graduating students receive a professional certification or license upon completion of their program. Eligibility is not income-based and applicants are not required to live within the boundaries of the Chickasaw Nation to qualify for this program.
---
Physician Manpower Scholarship
The Nursing Student Assistance Program provides assistance to Oklahoma nursing students pursuing LPN, ADN, BSN, or MSN degrees and who are interested in practicing nursing in Oklahoma communities, with emphasis placed on rural or smaller communities.
---
Tarr-Shaw Foundation
The Tarr-Shaw Foundation provides assistance to Central Tech students living in the Drumright, Shamrock, Olive, and Oilton communities.
---
Otha Grimes/Francis Tuttle Scholarship
This scholarship is reserved for deserving adult students who may not qualify for other scholarships or student assistance programs. They are awarded more on the basis of need and commitment rather than on good grades alone. The number of scholarships and the dollar amounts may vary with the availability of foundation funds and with the special needs reflected among the applications. Contact your local technology center financial aid office for more information. View the application instructions here.