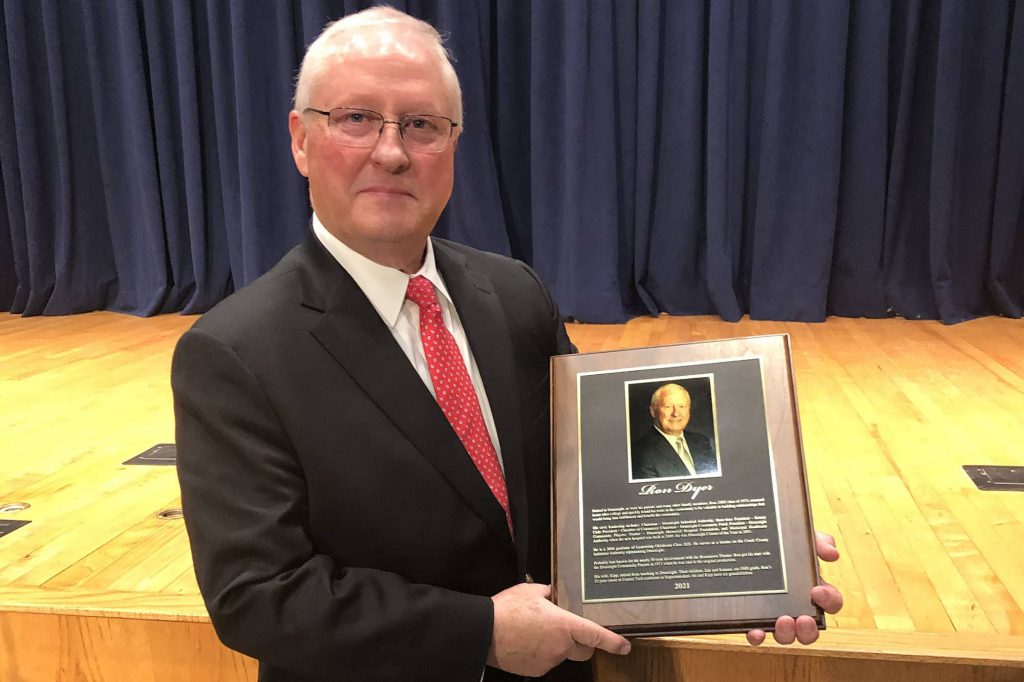 Drumright Chamber of Commerce inducted Ron Dyer as the 34th member into the Drumright Hall of Fame on Saturday, February 6 during the annual Drumright Chamber Banquet.
"Members are elected to the Drumright Hall of Fame for significant contributions to the citizens of the area. Some make these contributions in the arena of education or academia, some in charity and compassion for their fellow man, while others are honored for their leadership. This year's recipient checks all the boxes," said Jim Martin, CEO, Drumright Regional Hospital.
It is quite an honor to be installed into the Hall of Fame since this is not an annual occurrence.
"Ron Dyer is an exceptional community leader, truly dedicated to Drumright's success for over 50 years. Ron was instrumental in the development and growth of Central Tech's Business and Industry programs that now bring thousands of workers to Drumright," said Phil Waul, former superintendent of Central Tech. "Ron's lifetime of service is deserving of Hall of Fame recognition."
Ron Dyer, who began his Central Tech career in 1989, is now superintendent of Central Tech. He has lived in Drumright most of his life raised by civic-minded parents. As he started his own family, it is no wonder with both feet serving as president of the Drumright Chamber, chairing the Drumright Industrial Authority and the Drumright Community Fund. In addition, he served on the Drumright Memorial Hospital Foundation Board, the Oak Grove School Board, graduated Leadership Oklahoma in 2006, and received the Drumright Citizen of the Year award in 2001.
"His leadership as president of the Hospital Foundation helped plan and create Drumright's new hospital, and he was instrumental in the success of Boomtown Theater," says Waul.
In fact, Dyer may be known best for his performances and involvement with Boomtown Theater and Drumright Community Players where he received many awards and eventually joined the board of directors. Over the years the theater attracted many people to Drumright.
Ron and his wife, Kipp, have been married for 39 years. They have two children and 6 grandchildren.