THE COMFORT INDUSTRY
When you think of HVAC, what comes to mind?
Keeping cool in the summer
Staying warm in the winter
Air Conditioning may be more important than you realize.
Cooling systems are a must for:
Preventing computer equipment failure in server rooms due to overheating
Keeping food frozen to extend use in restaurants and grocery stores
Providing frozen treats like ice cream and ice for the hot summer
Keeping flowers fresh in floral shops
Preserving manuscripts and artwork in museums
Using flash freeze systems to immediately freeze food in manufacturing plants
Keeping surgical suites sterile in hospitals through air circulation
Electrostatically removing bacteria from the air in hospitals and libraries
With today's technology, HVAC circuit boards can be run from your phone so you can change the temperature of your air conditioner and arrive home in comfort.
Starting to realize how HVAC improves the quality of your life?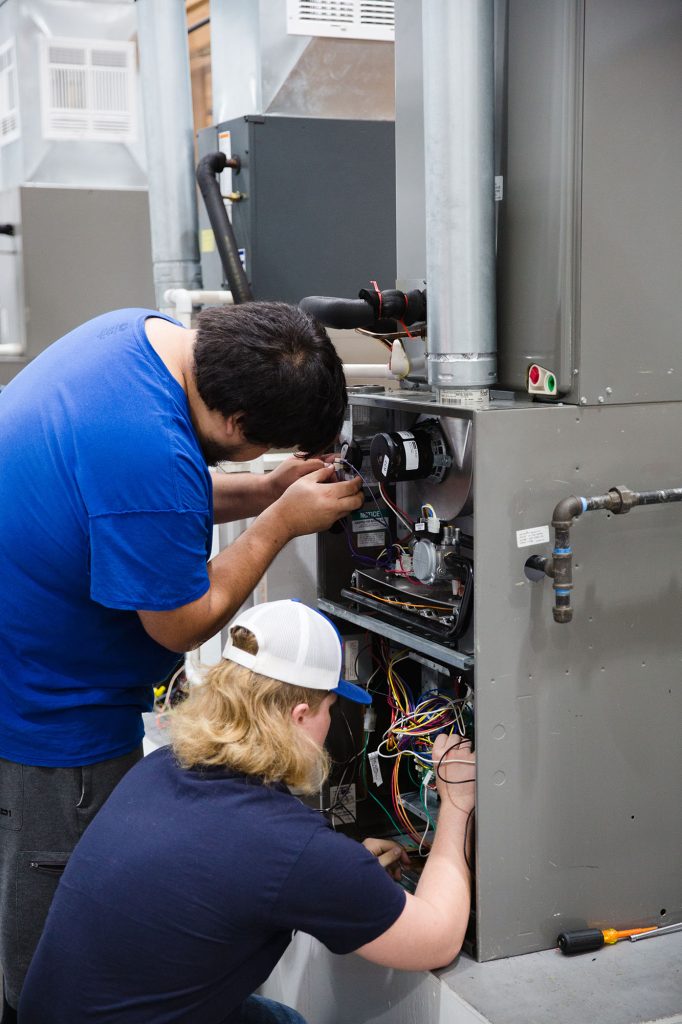 "Central Tech has set me up to be successful."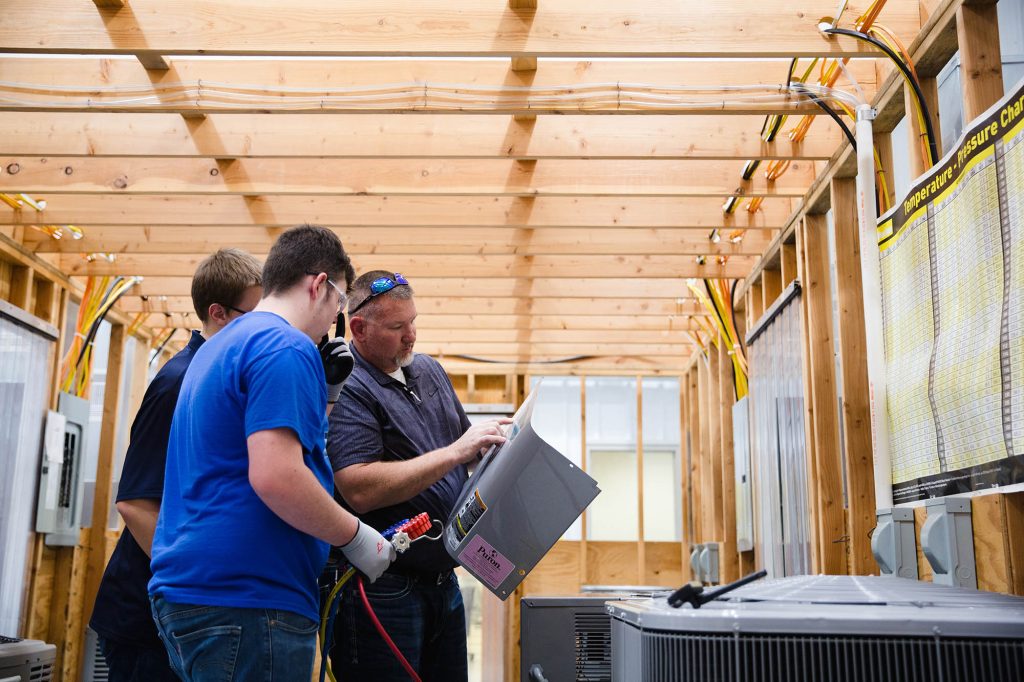 SAVE TIME. MAKE MONEY.
After successful completion of the program, you will be an apprentice. (Average salary

$31,600

)
We encourage you to immediately apply for the endorsed apprentice and sit for the journeyman exam.

It will not take effect for 12 months, but you have just finished the class and knowledge is fresh in your mind. You are prepared for the exam.
Typically, you would have to work in the field as an apprentice for three years before becoming a journeyman. Central Tech qualifies for two-years of work.
Having passed the journeyman exam, your resume will stand out to employers. (Average salary $41,500 with top earners in Tulsa making more than

$56,000

)

After another 12 months, you can sit for your contractor license. (Average salary $78,000 with top salaries at

$98,000

in Oklahoma.)
HVAC is listed as one of the

six figure careers

that don't require a college education.
Variety of Options
You might be a people person who enjoys dealing with the public and making service calls. Or, you may be the complete opposite and prefer to handle installation and working on equipment over working with people. Whatever your personality, you have choices.
Residential vs. Light Commercial
Installation vs. Service
Working with People vs. Working Alone
Electrical Knowledge
You will gain fundamental knowledge in electricity.
READ – You will learn how to read wiring diagrams.
DRAW – You will draw diagrams to illustrate how a circuit works.
BUILD – You will learn to build circuits by understanding how they work and troubleshooting issues.
VERIFY – Check your circuit to make sure it functions properly.
The Right Fit
Mental and physical dexterity make this job easier. Here are some questions to ask yourself or discuss with a recruiter.
Can you handle extreme heat and cold working in the elements?
Do you have a fear of heights when you climb ladders?
Would you be claustrophobic in a crawlspace under a house?
Are you strong enough to carry heavy equipment?
Would colorblindness make it difficult for you to discern a wiring diagram?
Before you start to worry, it may make it easier to know, we take your safety seriously. In fact, safety training and three certifications are included in the course.
OSHA 10
Fall Protection & Harness
Confined Space
Refrigeration
You will learn the essentials of servicing refrigeration for both residential and commercial. By collecting data, you can calculate humidity, refrigerant pressure, air temperature, air flow, and dehumidification. Using instrumentation, you will plug data into a formula that allows you to calculate in real time how the unit is performing. Then you can compare your results with the manufacturer specifications to see if the unit is performing as intended or determine what you need to do to reach optimal performance. Optimizing performance maximizes efficiency which reduces energy consumption and costs.
"It's pretty cool to be reading a wiring diagram, and for the first time realize – I get it! I know how this machine works."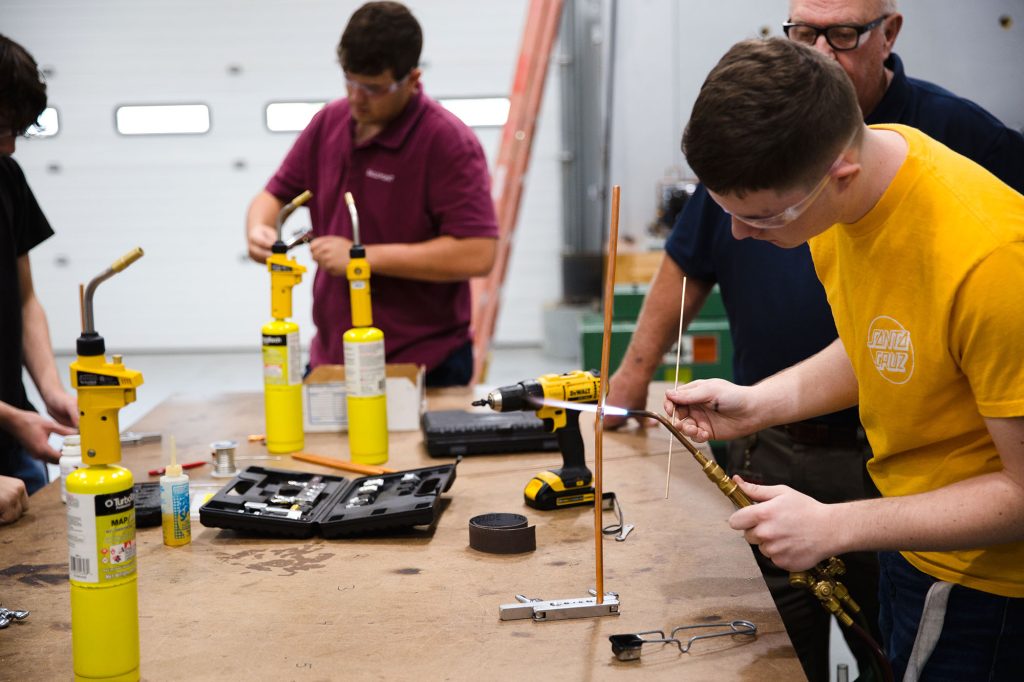 RESIDENTIAL/LIGHT COMMERCIAL HVAC TECHNICIAN
PATHWAY
Details
This class will introduce you to the skills required to enter the residential and commercial Heating, Ventilation, and Air Conditioning (HVAC) industry.
You will be instructed in the safe operations of related HVAC tools and equipment which will better prepare you for taking your journeyman test.
You will be eligible for journeyman test after one year of work experience.
View evening HVAC class options here.
Areas of study
Workplace Basics and Certified Safety Training
Introduction to HVAC Fundamentals I
Introduction to HVAC Fundamentals II
Industry Piping Materials and Processes
Advanced HVAC Technical Concepts I
Advanced HVAC Technical Concepts II
Air Ducting Systems and HVAC Diagnostics and Applications I
HVAC Diagnostics and Applications II
Potential Career Path
Source: Zippia.com
"Students are fully prepared for HVAC field service work."
"We have had great success with the students!"
"Great environment to find trained and qualified employees."