As part of a state competition diesel mechanic and welding students, Colt Robertson and Zachary Riley, trained cosmetology students in car maintenance and beginner welding techniques. The community action project named "Helping Hand" took place at the Central Tech campus in Drumright last Friday, April 8.
Every cosmetology student who attended the instruction, both in the morning and afternoon classes, had the opportunity to learn things everyone should know and yet oftentimes does not. Earl Elliott, the diesel instructor at Central Tech, named a few things each group was trained on.
"What we went through today was changing a flat tire, starting a car, checking a battery, checking fluids, how to look up on your vehicle, what your vehicle would take as far as different types of fluids and oil," he said.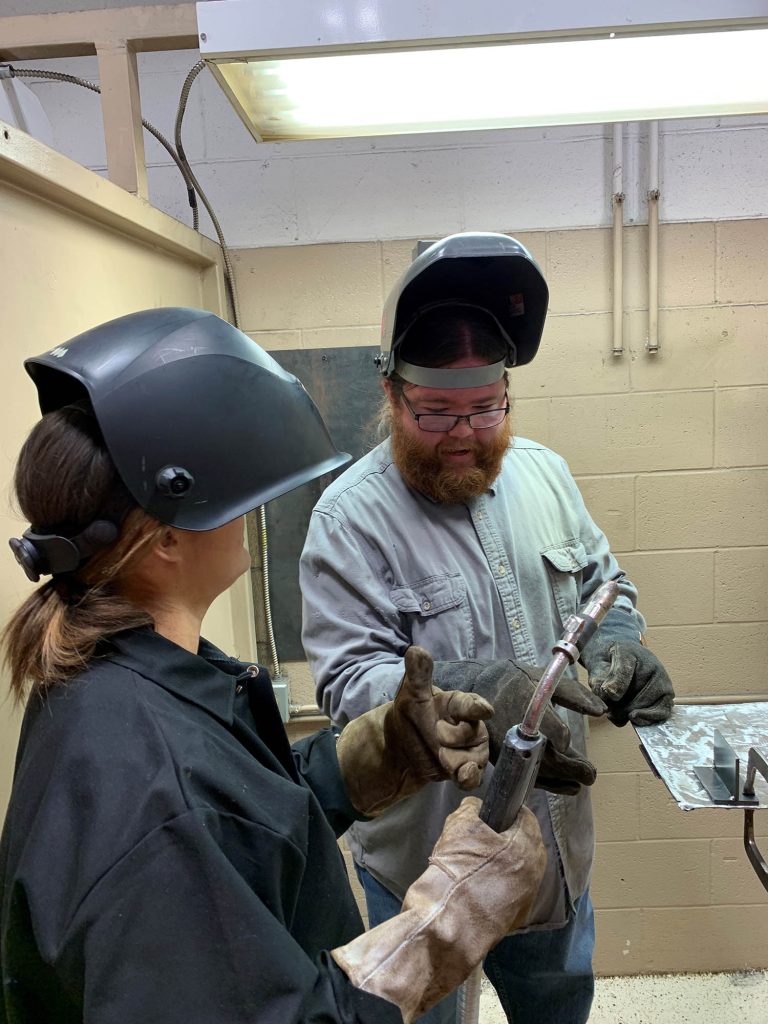 Welding Instructor Troy Elliott, also had a student take part of the day to instruct the cosmetology students on how to do tack welding, which is used as a temporary hold before final welding is done.
"Welding is doing a very quick paced instruction where they are doing T-plates. They lay one flat and stand the other up on it and tack it together. So far this morning every person in cosmetology got to strike an arc, burn a rod, and make a tack." Earl said.
Since word spread about the collaboration other class instructors have begun to express interest in doing it as well.
"Today (April 8) we have cosmetology and we will have other classes – next week we will have medical assisting and health careers has already inquired about having one of these instructions as well," said Earl.
He explained this will be the third year for the diesel and welding classes to work together in this competition but the first year doing this particular project, which was actually suggested by Monica Frick, the cosmetology instructor.
"This will be our third year to compete; we hadn't been able to compete the last two years due to COVID, our first year was 2017," he said.
According to Earl, the Central Tech team won nationals in 2018 by building lockers for the fire department as their project. The team will be competing for state in Tulsa on April 24; if they win they will go on to nationals in June.
By DeAnna Maddox, Drumright Gusher