All About Diesel. All the time.
Ready to get your hands dirty? Learn to disassemble and reassemble large engines, dismount tires, and perform front end alignments in our giant diesel shop much that looks like the environment where you will go to work.
Just think…by the time you graduate from high school (one year for all-day adults), you could be a diesel mechanic working on big engines. Diesel Technicians can choose to work for:
Fleet services
Manufacturers
Repair Shops or Service Stations
Start Your Own Business
Trucking Companies
Diesel mechanics are needed in a variety of work environments including:
Agriculture (tractors)
Automotive
Busses
Diesel-powered Industrial Machines (generators)
Heavy Equipment (dozers, backhoes, track hoes)
Trains
Trucking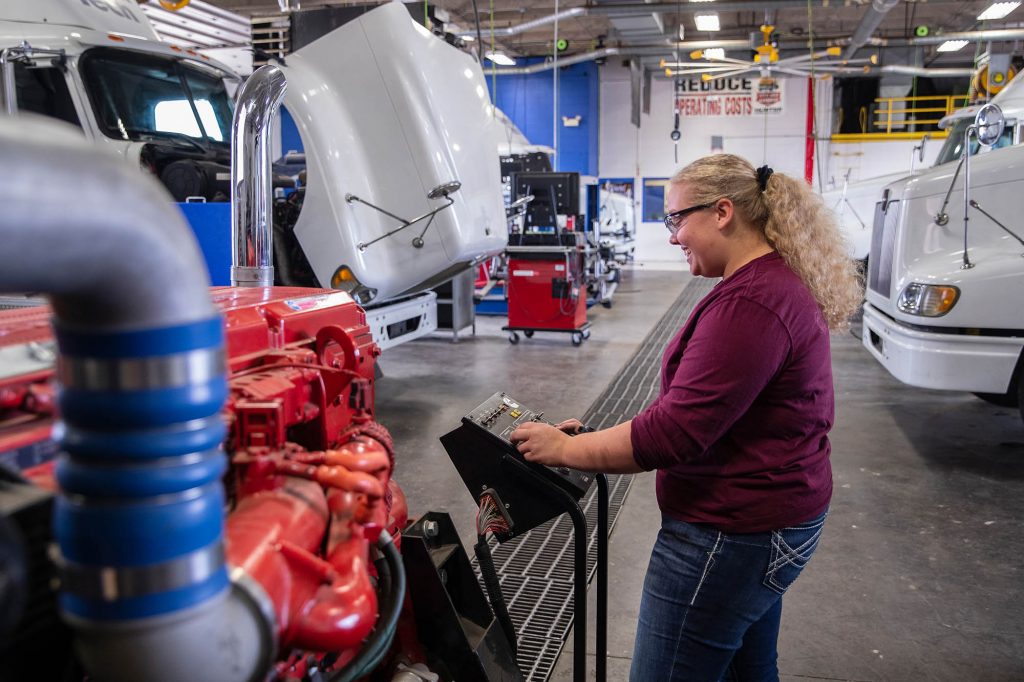 There's so much to learn
Our on-the-job training (OJT) program allows you to put your knowledge to work during the second semester of your senior year (quicker for all-day adult students).
With hands-on experience plus OJT, it's no wonder small trucking companies along with some of the biggest names in the industry hire our graduates to keep their engines running.
After successfully completing the diesel mechanic program, you can obtain your CDL. Must be at least 18-years old.
Although you won't be "transporting ten thousand loads in sixty days – before the road disappears…" as a diesel mechanic or CDL driver you could get "hooked up to make some money!"
MEDIUM/HEAVY DIESEL TRUCK HEAVY LINE TECHNICIAN
Pathway
Details
In this class you will learn the skills to provide service and repair to the engine, chassis and drive train components. You learn about the electrical system and to test and replace the system components using a digital volt ohm meter.
You also learn about the preventative maintenance inspection and performance procedures, regulations, and documentation as well as how to inspect, diagnose and repair diesel engines. You gain hands-on experience in disassembling, repairing and reassembling a diesel engine.
In addition, you learn about the brake system, steering system, hydraulic system, and drive train diagnosis, problem solving techniques and repair procedures. You cover hydraulic systems found in medium and heavy truck applications as well.
The hours completed in this program align with ASE/NATEF standards, and ASE certification is recommended and industry recognized.
Areas of Study
Introduction to Diesel Technology Safety & Electrical
Diesel Electricity Fundamentals
Preventative Maintenance Inspection & Service
Diesel Engine Systems
Workforce Staging
Tire Service, Heating & Air Conditioning
Medium/Heavy Truck Brakes
Medium/Heavy Truck Steering & Suspension
Medium/Heavy Diesel Truck Drive Train
Medium/Heavy Diesel Truck Hydraulics
Potential Career Path
Source: Zippia.com
"I went to Central Tech with the mindset of doing the best I can, soaking up as much info as I could, taking advantage of opportunities when I could, and it payed off. One of those opportunities was to go to Central Tech's Truck Driver Training and get my CDL, so that I would be set as a diesel technician. I am now an employee at Rush Trucking Center, and I am still learning."
MEDIUM/HEAVY DIESEL TRUCK HEAVY LINE TECHNICIAN/CDL
Pathway
Details
In addition to the curriculum for the Medium/Heavy Diesel Truck Heavy Line Technician class, you will receive the training necessary to become a professional truck driver. You will learn how to properly operate an eighteen-wheeler, including:
Shift, Backup, & Basic Controls
Speed & Space Management
Night Operation
Driving in Extreme Conditions
Emergency Maneuvers & Hazard Awareness
Preventative Maintenance, Troubleshooting, & Vehicle Inspection
Cargo Handling & Documentation
Trip Planning
Driver Health & Safety
Accident Procedures
You will have an opportunity to perform driving skills on training grounds and in live traffic. After the completion of this major you will be eligible to take the CDL exam to receive your license.
Areas of Study
Professional Truck Driver Basic Operation
Professional Truck Driver Safety Operation Practices
Professional Truck Driver Advanced Operation Practices
Professional Truck Driver Vehicle Maintenance
Professional Truck Driver Non-Vehicle Activities
Potential Career Path
Source: Zippia.com
"We are in search of technicians. Diesel Technology provides an excellent pool of students to interview."
"Great program. I would not be in my career without this program."
More Information
Our Graduates
Where do they find jobs?
Read More
Most of our graduates join the workforce upon completion. Many times, they accept OJT offers. Occasionally students will take internships while continuing their education at OSU-IT for CAT Dealer Prep, Komatsu ACT, Truck Technician, or Western Equipment Dealers Association Technician.
---