Freymiller, Inc. was honored at the Hilton Garden Inn in Edmond last night as Central Technology Centers 2023 Partner in Progress.
The Oklahoma Association of Career and Technology Education (OkACTE) award recognizes businesses and industries that have made outstanding contributions to the improvement, promotion, development, and progress of career and technology centers in Oklahoma.
For more than 50 years, Freymiller, Oklahoma City, Okla., has worked to earn a reputation of professionalism, integrity, and excellence in the transportation industry. The family owned and operated company began in Wisconsin before moving to California.
After time and research, they made their final move to Oklahoma, a state focused on supporting the trucking industry.
They were so appreciative of the support they received from Oklahoma they decided to return the favor. After a little innovative thinking, they devised a plan to repay the state that supported them. Founder Don Freymiller and son, David Freymiller, owner and chief executive officer, knew the plan must benefit Oklahoma, develop a workforce, and improve the truck driver shortage.
After several meetings between Oklahoma CareerTech, the Oklahoma Department of Corrections, Governor Stitt, and Central Technology Center, the idea became reality.
In 2019, Freymiller partnered with Central Tech, a statewide truck driving school, to complete the educational component of the plan. And the second chance program was born.
Central Tech had been providing new drivers to Freymiller for several years. Now, with approval from the Department of Corrections, the truck driving school would train incarcerated individuals.
"The second chance program focuses on transitioning justice-involved individuals into life after incarceration. The goal of the program is quite simple, break the cycle of reincarceration," said John Thorpe, transportation and safety education director at Central Tech.
Education is known to reduce recidivism. In fact, individuals who enroll in postsecondary education programs are 48% less likely to be reincarcerated than their peers who do not.
"Once students successfully gain their Class A CDL from Central Tech and are released from prison, they have an employable skill in a needed industry," said Thorpe. "Whether the graduate becomes a driver for Freymiller or another trucking company, students learn a trade, earn a great income, and begin their path to success."
Through the second chance program, Freymiller and Central Tech positively impact lives and provide an untapped pool of drivers to an industry currently short of 78,000 drivers throughout the country.
To date, 156 justice-involved individuals have obtained their Class A CDL through the Central Tech Truck Driver Training course. Of those trainees, 49 have been employed with Freymiller. An additional 30 are awaiting release and their opportunity to pursue a career as a professional truck driver.
Central Tech is proud to recognize Freymiller as their 2023 Partner in Progress.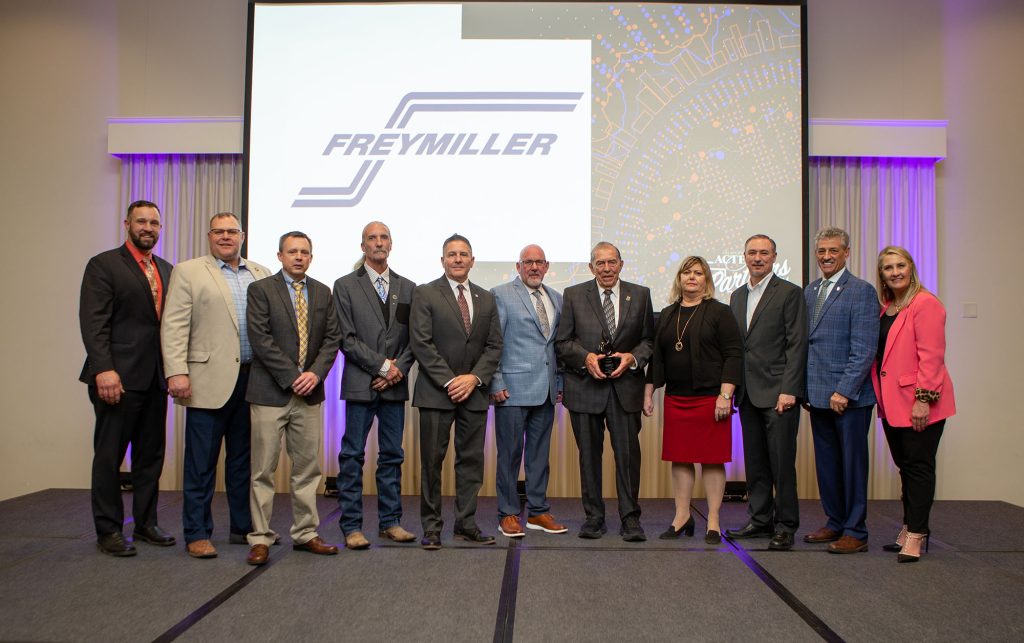 About Freymiller: For over 50 years, the Freymiller family has worked to earn a reputation for professionalism, integrity, and excellence in the transportation industry. Our founder, Don Freymiller, grew up on a Wisconsin dairy farm. In 1968 he bought his first truck in an effort to better provide for his young family. By 1980, Freymiller Trucking boasted 56 trucks and was exclusively devoted to hauling temperature-controlled freight. Today, we are still family owned and operated, and maintaining our rich tradition of going the extra mile to keep every customer satisfied. 
What makes Freymiller different from other companies is our dedicated team of employees, drivers and contractors – each of whom works hard to give customers exceptional service, value and safety on every temperature-controlled load we transport.
Headquartered in Oklahoma City, Oklahoma, we're led by a dedicated group of professionals whose work maintains an environment which promotes innovative thinking and problem solving. We enjoy a strong family atmosphere along with an open-door policy; we know everyone by name and always strive to treat others as we would like to be treated. Every customer, truck driver and employee is backed by the strength of a half-century of experience and our solid, reliable financial position.