What you don't know about the trucking industry may surprise you!
Many trucking companies are trying to create a work-life balance that hasn't been present in the trucking industry.
With truck drivers hauling 70% of the nation's freight, the industry has to do a lot of work to attract the next generation of truckers who don't want to spend 240 nights away from home per year.
Commercial Driver's License (CDL) Training Options:
Drive the traditional over-the-road (OTR) or home every night
Learn with a manual or automatic transmission
Whether you want to drive locally, regionally, or across the country, Central Tech Truck Driver Training can help you get on the road to a better life.
Students have access to quality classroom instruction, Virage simulator, range and road driving, as well as, practical application of skills used in highway driving.
As a nonprofit school, you will be surprised by our low tuition cost, which includes housing during your CDL training.
CLASS A TRAINING LOCATIONS
While our main location is in Drumright, we bring Truck Driver Training across the state of Oklahoma by partnering with other technology centers including Autry Tech, Canadian Valley, Chisholm Trail, Gordon Cooper, Green Country, High Plains, Kiamichi, Moore Norman, Northwest, Pioneer Tech, and Wes Watkins.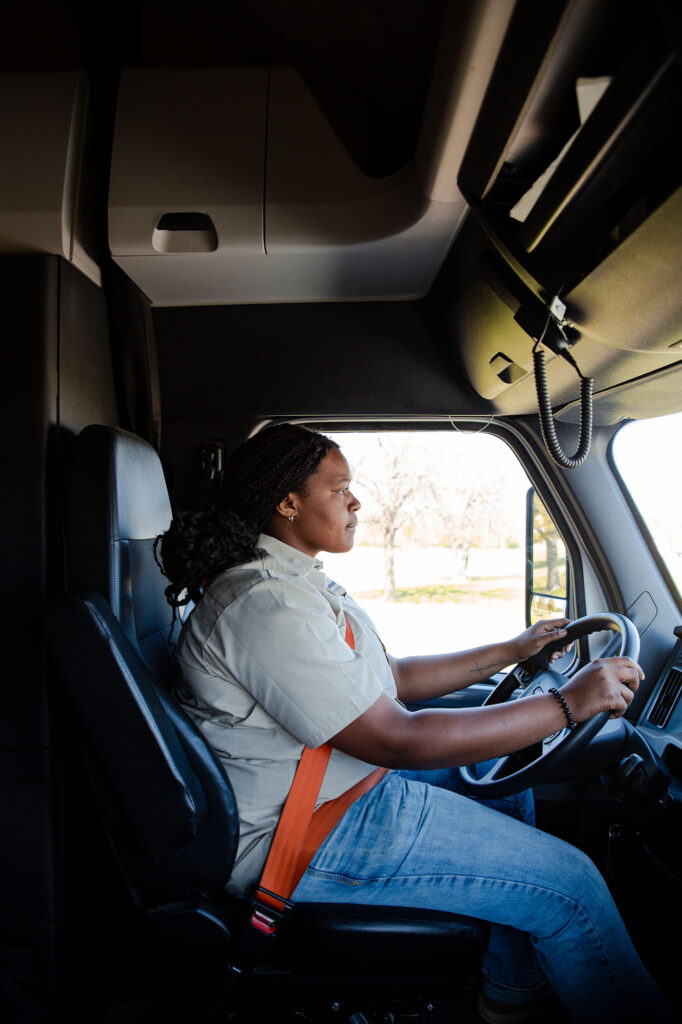 Through our CDL school, you will be prepared to join the trucking industry after 25 days of training.
0
Average Starting Salary
Tuition Information
Course includes tuition, books, supplies, drug test, DOT physical, Class A learner's permit, driver training, housing, and CDL test. The total cost is $4,800 for Oklahoma Residents. Housing for 25 days is available at the Drumright location only, (based on location availability) and is available at no additional charge. Central Tech will make housing reservations for students.
You are responsible for the $25 processing fee on the day you receive your CDL license, plus any applicable retake fees.
NOTE: You must provide an original or certified copy of your state-issued birth certificate or passport, and proof of Oklahoma domicile/residency each time you interact with the Department of Public Safety.
Oklahoma residents must have a valid Oklahoma driver's license prior to the first day of class to be eligible for in-state tuition rates.
Accepted methods of payment: Cash, Check, Money Order, MasterCard, VISA, and Discover Card.
Tuition Assistance
Military Discount
$350 discount off tuition.
Veterans with honorable discharge must provide a copy of their DD214.
Related Costs
Hazmat (optional certification)
Upon successful completion of the ELDT Class A cdl COURSE and having met all requirements, students earn:
Commercial Driver's License (CDL)
Central Tech Truck Driver Training certificate of completion
THERE IS NO SUCH THING AS AN OVERQUALIFIED TRUCK DRIVER.
News spreads fast. Industry recruiters snap up Central Tech graduates as fast as they can be trained. Today, the school has a placement rate of 98 percent and a reputation for turning out professional, employable trainees.
Ask professionals. They'll agree. . . "The best insurance is a better driver, and the best drivers start at Central Tech."
Our reputation for providing graduates with excellent driving skills is well known in the trucking industry. The following carriers hire students from our program; some exclusively.
RAM Transport
Total Transportation
60+ hours of behind-the-wheel drive time 
Two students per truck allows each student 60+ hours of behind-the-wheel drive time. This ensures that each student develops proficient driving skills including:
Air Brakes Systems
Compliance Safety & Accountability (CSA)
Control/Vehicle Systems
Coupling & Uncoupling
FMCSA Rules & Regulations
Hours of Service
Night Driving
Progressive Shifting
Space & Speed Management
Various Backing Maneuvers
Vehicle Pre-Trip Inspection
The state-of-the-art ELDT Class A CDL school in Drumright, OK has a driving range with more than four miles of paved roadway on 45 acres. The range is equipped with traffic signs, railroad crossing, and skill practice areas designed to allow each student to develop the skills necessary to become proficient in driving today's tractor-trailers.