WELDING/FABRICATION TECHNOLOGY
Welding Processes
Welding is a HOT career that takes time to learn and master. There are different processes and methods of welding, several techniques/joints, all which use a variety of metals.
Learning how to choose the correct process, weld type, and metal for the job takes time. We are going to break down the welding processes you will learn in this class.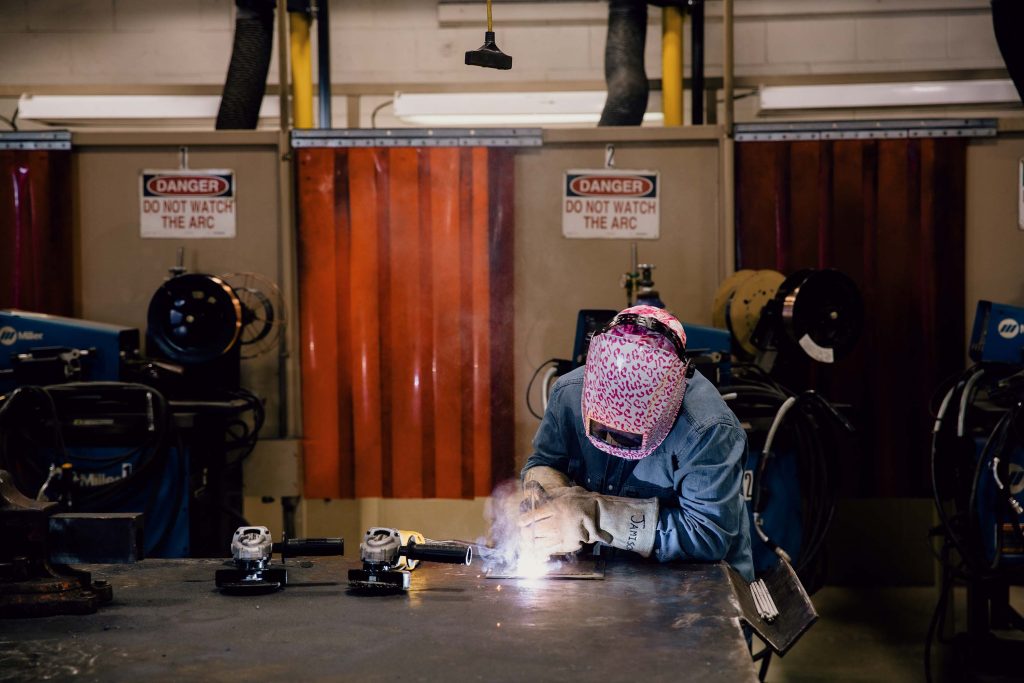 "Central Tech taught me a lot of things. I did not know Flux Cored welding was a thing. Now I am looking for a career that uses this process."
"High performers for our organization."
"The facilities and instructors are top notch."
"The welding program provides excellent preparation to enter the workforce with both feet on the ground."
STICK
Shielded Metal Arc Welding (SMAW)
Stick welding will be the first process you tackle.
Why? This process is unlike the others, so it's good to learn it first. It is a highly skilled process with a long learning curve the requires lots of practice.
The "stick" serves as the filler metal. This means you manually add more metal as you need it.
It doesn't require shielding, so it's an environmentally friendly process that can be used on anything even rusty dirty surfaces.
If you want to go off the grid, this is the welding process for you.
Flux-Cored Arc Welding (FCAW)
Similar to MIG – wire metal filler is fed through a cable gun system.
FCAW wire has a core of flux inside the wire.
Good for thicker and heavier metals.
Welders enjoy this type of welding since it can be done faster and gets hotter that the others.
The concepts you manually used in stick welding are handled automatically through the machine.
This type of welding is increasingly becoming in high-demand with high-wages.
MIG
Gas Metal Arc Welding (GMAW)
Good for new welders.
Filler metal is delivered a spool is continuously fed through the MIG gun at a set speed.
Shielding gas is expelled around the weld puddle which helps form and protect the weld.
Versatile to weld many different metal types and thicknesses.
TIG
Gas Tungsten Arc Welding (GTAW)
Uses a non-consumable tungsten electrode, so it is possible to fuse metals together without filler materials.
One of the few processes that can be done using only the two metals being welded together.
A nonflammable shielding gas is necessary for weld protection.
Performs better indoors as you weld on clean machines. It's the cleanest welding process. If you want to weld and stay clean, this is the job for you.
Difficult type of weld – best for experienced welders.
"I'm glad I took advantage of the welding program at Central Tech in Sapulpa. I came across some good people and a GREAT professor, the man, the myth, the legend, Jeff Vandever. Thanks for teaching the youth a great trade, not all of us are meant for college!"

Daniel Pinta, Student
COMBINATION WELDER
PATHWAY
Details
This program will teach you to do quality welding for a variety of construction and manufacturing jobs using multiple structural welding techniques. Instruction will cover:
Welding Theory & Safety
Fabrication
Layout
Print Reading
Symbols
Math
Welding Codes
Metal Characteristics/Properties
Oxy-Fuel Cutting
You will learn to perform high quality welds in accordance with welding procedure specifications used in a variety of welding occupations. You will also gain an introduction to pipe welding skills, using SMAW, FCAW GMAW, and GTAW techniques.
Areas of Study
Fundamentals of Welding & Cutting Processes
SMAW Welding Processes
GMAW & GTAW Welding Processes
FCAW & Welding Specialties
Workforce Transitions
Potential Career Path
Source: Zippia.com
Do you like it hot?
For those of you who enjoy physics – or sharing random bits of knowledge not many people know.
Who's The Hottest?
| Who's the HOTTEST? | Degrees in Fahrenheit |
| --- | --- |
| Average Body Temperature | 98.6 |
| Bonfire Wood | 1,112 |
| Lava | 2,000 |
| Charcoal | 2,012 |
| Magma | 2,200 |
| Sun's Surface | 9,941 |
| Welding Temperatures | 10,000+ |
| Lightning Bolt | 50,000 |
| Sun's Core | 27,000,032 |
WHAT TYPE OF PROJECTS DO STUDENTS DO?
Here are examples of student projects.
Remanufactured light poles for schools,
handrails for a house,
trailers,
the handle on the gas tank for the car museum in Sapulpa,
campus projects with maintenance staff
community action projects benefitting St. Jude's
built smokers, and
firepits.
HOW HAS TECHNOLOGY CHANGED WELDING?
Through the years advanced technology has been incorporated into the welding machines that aids in hand-eye coordination.
IS THERE MATH IN WELDING?
Have you sat through a math class wondering why you need to learn fractions or formulas? If you are interested in welding, it's important to know the melting point of metals, and with that – a little more math. Don't let it scare you, the great thing is, everything becomes relevant. As you learn the math formulas you understand how they are used, why, and when to use them.
IS THERE AN INDUSTRY RECOGNIZED WELDING CERTIFICATION?
The American Welding Society (AWS) welding program allows you to test your skills based on the structural steel, sheet metal, chemical refinery, and petroleum pipeline welding industries. However, even with an AWS certification, shops will require you to take and pass their welding test before employment is offered.
Welding isn't done exactly the same in every shop. Each company has a specific way they want to see a weld. At the end of the day, yes…it's the same weld – but there are many ways to get there.
More Information
Job Demand & Pay
Welders & Fabricators
Read More
Most companies require two to three years of welding experience even for entry-level positions. Central Tech's full-time program is 1,050 clock hours and is usually accepted as two-years of experience.
Assemblers and Fabricators
Boilermakers
Certified Welding Inspectors
Jeweler or Metal Art
Machinist, Tool, and Die Makers
Metal and Plastic Machine Workers
Plumbers, Pipefitters, and Steamfitters
Sheet Metal Workers
More than 50% of the products in the United States require welding and welding jobs are on the rise.
---