COMPUTER AIDED DRAFTING (CAD)
BEFORE ANYTHING IS MADE – IT'S DESIGNED
Did you know, you could not own an Xbox, enjoy an iPhone, or even put on your favorite shoes – without mechanical drafting?
You wouldn't have a place to live or go to school – without architectural drafting which focuses on residential or commercial design.
Drafting students learn computer-aided design (CAD) software which allows them to create blueprints and floor plans. Using the CAD software these online drawings can be sent to a 3D printer to produce a model or prototype.
But there's MATH and TECHNICAL STUFF…
Don't let the fear of math, technicality, or difficulty overwhelm you. You'll soon discover that it's simple, relevant math that you can easily grasp.
One of the great things about this class is that you have the flexibility to work at your own pace and according to what suits you best. Feel free to choose different parts of the project to work on, depending on how you feel each day, and meet the overall deadlines. Think of it as taking on small manageable work with well-deserved breaks in between.
We're here to support you every step of the way!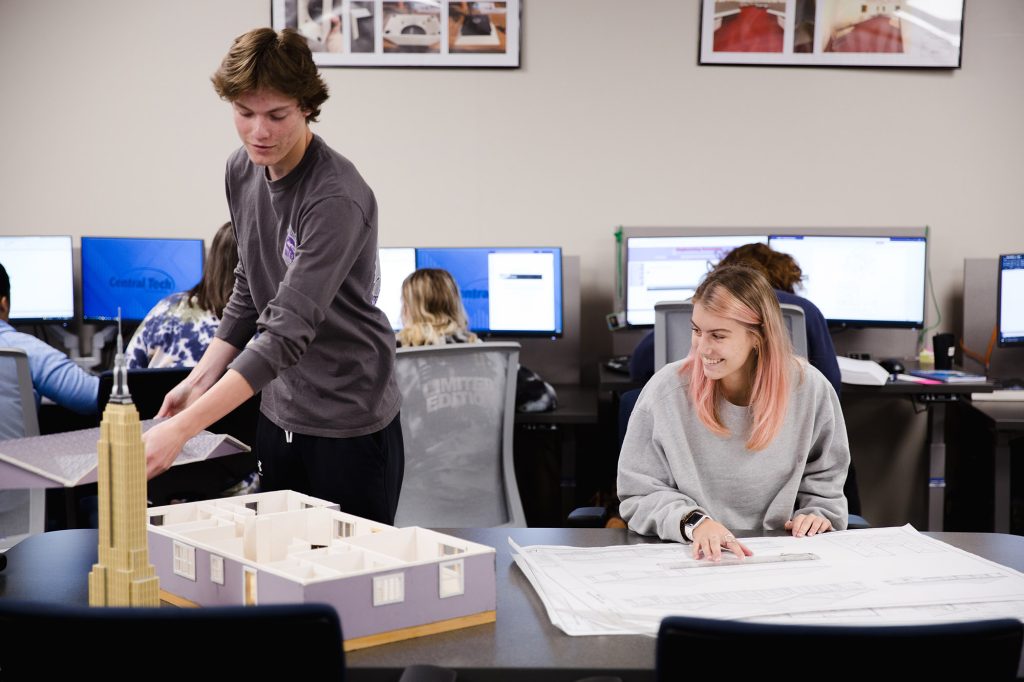 Use CAD to create drawings, assembly, and models in every industry.
Combine your desire for drafting with another interest. Here are a few ideas to get your started:
Automotive – cars, trucks
Construction – buildings, homes
Health care – design prosthetics, machines
IT – programming computers
Sports – golf clubs, guitars, skateboards
Technology – earbuds, cell phones, game controllers, speakers
Welding – utility carts, steel structures, art
Be part of the Future.
DRAW BLUEPRINTS FOR TOMORROW'S INVENTIONS.
PROBLEM SOLVERS
Many student projects come from real world issues
PROBLEM: A hand sanitizing bottle pumped too much sanitizer at one time.
SOLUTION: Students created a collar to fit on the pump reducing the quantity dispersed.
PROBLEM: A part on a student wheelchair broke leaving the student unable to attend school.
SOLUTION: Drafting students were able to take the broken part, reverse engineer it, print a prototype on the 3D printer, and fix the wheelchair so the student could return to school.
CAD IS FOR EVERYONE
Drafting students aren't always young adults beginning their first job.
After years of physical labor, many construction workers, welders, and skilled workers trade in their tool belt for a computer. The days of reading blueprints and building projects are behind them, and the doors to designing projects have just opened. The future is theirs to create.
If you can imagine it, you can create it.
Check out our architectural and mechanical pathways below.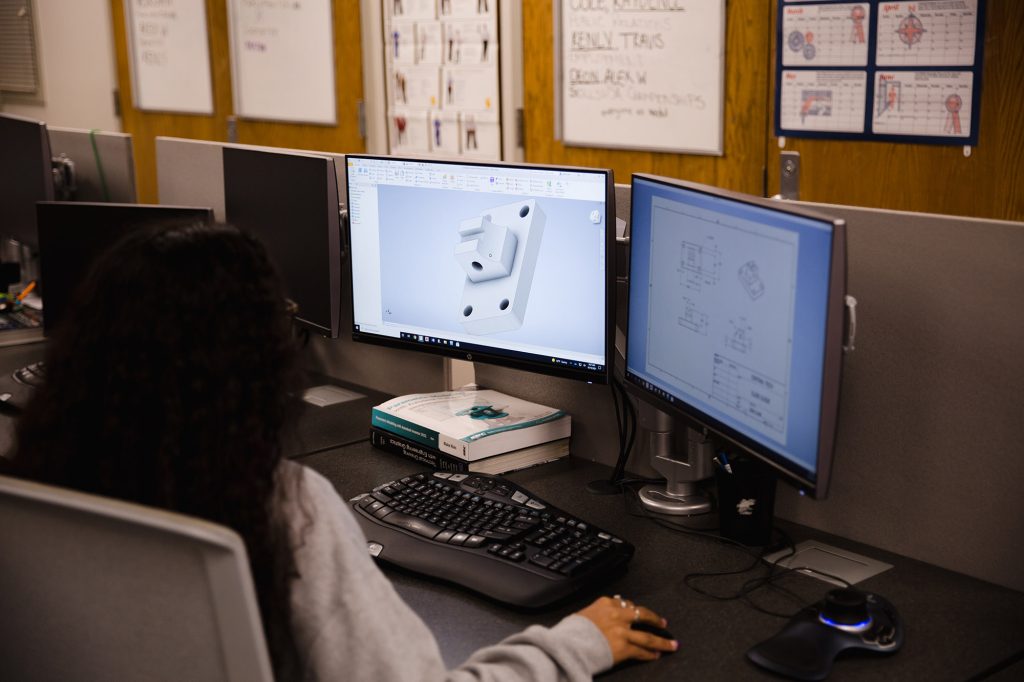 "I graduated from this program and have been successful ever since!"
CAD TECHNICIAN ARCHITECTURAL
PATHWAY
Details
You will be provided with knowledge and skills that will lead to employment and advancement in the field of architectural technology.

You will translate the architect's design sketches into complete, accurate plans and drawings for construction purposes. You are involved in work requiring knowledge of:
Drafting
Computer Graphics
Construction Materials
Technical & Structural Systems
Estimating
Building Codes
Specifications Used in the Preparation of Architectural Projects & Construction of Buildings
Areas of Study
Fundamentals of Computer-Aided Drafting & Design
Safety & Intro to Technical Drawing
Principles of CAD Design
Engineering Computer-Aided Drafting and Design
Architecture Computer-Aided Drafting and Design
CAD Architectural
Presentation Graphics Animation
Workforce Staging
Focus Areas
Learn the fundamentals of mechanical drawings
Gain technical skills using drafting tools like CAD
Create 3D visual product models
Produce models on the 3D printer
Students learn the latest software including:
AutoCAD
Autodesk Inventor
Autodesk Revit
SOLIDWORKS
CAD TECHNICIAN MECHANICAL
PATHWAY
Details
In this class you will be introduced to the basic concepts of mechanical engineering drawings. You will interpret and apply graphic language, orthographic, dimensions, and sectional views to a mechanical drawing in accordance with professional standards.

In addition, you learn dimensioning terminology and practices including Geometric Dimensioning and Tolerancing. You will be instructed in section views, assembly drawings and trade-specific charts and tables to produce operational plans for the manufacture of mechanical.
Areas of Study
Fundamentals of Computer-Aided Drafting & Design
Safety & Intro to Technical Drawing
Principles of CAD Design
Engineering Computer-Aided Drafting and Design
Mechanical Computer-Aided Drafting and Design
CAD Mechanical Level
Presentation Graphics Animation
Workforce Staging
Potential Career Path
Source: Zippia.com
"Drafting prepares young adults for the real world."
More information
Job Demand & Pay
Computer Aided Drafter
Read More
Average computer aided drafter salary right here in Creek County is $39,060. Many computer aided drafters have previous experience in jobs such as drafter or design technician. Our graduates enjoy a starting salary around $18/hour.
---
Our Graduates
Where do they find jobs?
Read More
Most graduates joining the workforce start in the manufacturing or piping industries. We have some students that start their career in commercial architecture, engineering, electrical, civil/survey, municipal, structural, energy, construction, or in steel fabrication. Others attend college majoring in engineering, architecture, or drafting.
---